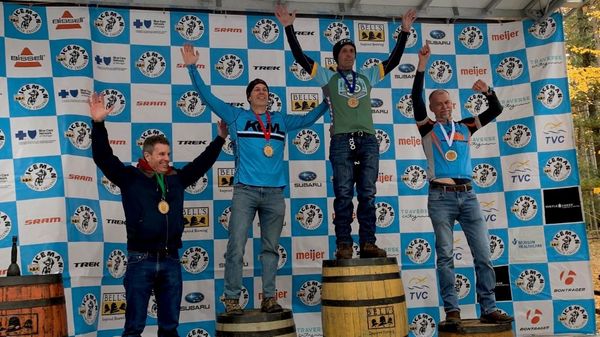 Cycling Success by Simplification
VeloPro brand ambassador Ed Serrat explains how cutting out the complexity in training helped him win.
Ed Serrat, far right, on the 2019 Iceman Cometh podium.
Blog by Ed Serrat
After 21 years of mountain bike racing and after trying multiple ways for training, from no structure, to heart rate only with structure, to power meter training with structure using and not using a coach, I decided to try something new this year. Last year I used power meter as my workout guide (along with my heart rate) with the great support of VeloPro software. My training was balanced and with a purpose. I felt well prepared for my races, and my results in last year's races were successful.
I have been using a power meter with some form of structured planning for the last 12 years. This year, I was looking for ways to simplify my life; this simplification led me to assess my bike training also. I knew that by using VeloPro I could plan my workouts using heart rate, power or rating of perceived exertion (RPE). I have extensive experience using heart rate and power, but I never had training by rating of perceived exertion (RPE) only. The concept sounded simple and enticing. So in 2019, I decided to completely stop using power meter and relied only on rating of perceive exertion (RPE). By transitioning to RPE only, I knew that it would simplify my training and it would bring a refreshing approach to my riding this year. Even though I have been racing and training for an extended period of time with some form of measuring output, the transition to RPE was seamless.
During the first few training rides in 2019, I used RPE along with heart rate. I would settle on a training zone and check once or twice during the training zone to make sure my heart rate was in par with the RPE. After a few rides, I no longer needed to rely on heart rate feedback anymore. This transition proved to be a game changer. I enjoy my workouts more. I don't feel like I am slave to the heart rate or the power meter. I think if I didn't have the background of heart rate or power meter, I would have had to rely on the RPE scales as a guideline. There are multiple sources with full descriptions of these scales on the internet.
As I turned 50 this year, I am learning that the more you simplify your life, the more enjoyable it becomes. I encourage anyone to try this approach not only to your cycling life, but to your whole life approach.
Not only my life was simplified, but my race results were very positive this year. I completed two 100 miles mountain bike races this year: I finished 8th place at Mohican 100, and 4th place at High Cascade 100. I also completed a 60 mile gravel bike race and a 50 mile mountain bike race (Dakota 5-0), obtaining a top 10th finish in both of them. I was able to cap off the racing season with a 3rd place at the Iceman Cometh Challenge this past November (point to point 30 mile mountain bike race). Using VeloPro and RPE, I was able to successfully compete in three different kinds of races (MTB Ultra Endurance, MTB Endurance, and MTB XC) with a big smile while doing it.
Back