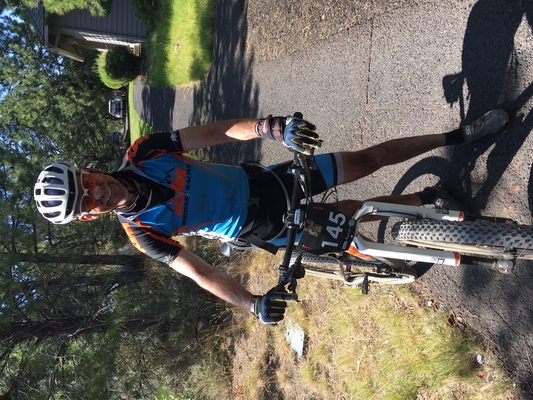 High Cascades 2020 Race Report
In an unusual year for competition, VeloPro ambassador Ed Serrat took part in the annual 100 mile MTB race
2020 was supposed to be a clear year (20/20 vision), but Covid-19 made it very interesting. My first race of the season at True Grit in Santa Clara, Utah barely escaped the Covid commotion. As the year rolled along, most of my races were cancelled. One race where there was still a hope for competing in a race was in Bend, Oregon - the High Cascades 100. As we were getting close to race day, there was a lot of uncertainty as to whether the race would happen or not. Based on the tone of the email from the promoter (Mike Ripley), you could sense that he was working really hard to make it happen. That glimpse of hope encouraged me to follow my preparation training on VeloPro.
As the time got closer to the race, I found out that the race would take place, however the field was reduced and there would be regulations imposed during the race from the health authorities. One of the primary filters was the number of participants. Those who registered first had the first opportunity to race. As the race weekend approached, we were told the final details of how the race would be run. The start was not going to take place in the usual place, it was to be at some undisclosed location 9 miles away from Bend on a dirt road. Participants were supposed to leave Bend on their bikes and arrive at the "start" location between 5:30 and 6:30 AM. The goal was to start between 6:00 and 7:00, the format was a time trial. We had to wear masks while we waited to get started, when we passed people and at the aid stations. Drafting was not allowed. Also, no spectators were allowed anywhere on the course. After racing for 21 years, this was the strangest start I ever experienced.
After saying goodbye to my wife at the condo where we were staying, I joined the parade of riders heading toward the start. Once the race started, it was also very strange not seeing spectators on the course. My wife always met me at the aid stations that allowed spectators. The course was different due to the Covid regulations and the promotor was forced to use Jeep trails that were very steep and covered in lava rock. While riding those difficult sections, I questioned the purpose of why I was racing, but as soon as I arrived at the fun and flowing sections of the trail that Bend is famous for, I was having a blast. I asked myself: why not ride these fun sections only and not these crazy difficult sections?
VeloPro did an excellent job preparing me physically for this challenge, even though my mental state was not 100% in the race. I felt very strong and knew I was riding very well. As I was approaching the last aid station, I made a strategic decision to not stop and grab my last water bottle to save time. I had enough fluids to make it to the finish line located 14 miles from town on a dirt road, again with no spectators. There was not a celebration and no interaction between competitors due to social distancing. We were given an option of a Coke or water at the finish line. We could ride back to Bend together, but we had to maintain social distance.
As I arrived at the condo, I just realized that this was the strangest race I had ever done. We raced a 100 mile race but were only timed for 77 miles. My wife welcomed me with open arms and already knew the results since she was tracking them online. She told me that I finished in 5th place. The celebration that normally took place at the finish line with fellow racers was always a wonderful experience, but this time, just the two of us opted for pizza and beer at 10 Barrel Brewery; it made me realize how blessed I am. Even though these were very strange circumstances, Mike Ripley jumped through many hoops to make this happen when other race promoters gave up due to the stringent regulations. After the euphoria of the race was over, a few days later, I still pondered the question about why I race. I have yet to find a good answer.
Back