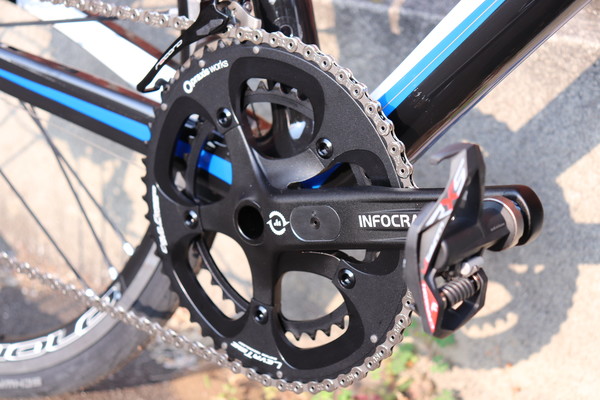 InfoCrank Sweepstakes FAQ
Learn the details!
What is Power and What is a Power Meter?
Cycling is the only sport where performance is absolute and can be definitively measured at every juncture. This measurement is called power. Power is measured with a device on your bike called a power meter. Power meters quantify your efforts in watts and kilojoules. This basically captures the amount of work you output at any given moment or across an entire workout or ride. Watts can be directly compared across all cyclists at all levels. That means you can see how you stack up to World Champions like Peter Sagan on a finishing road sprint or Annemiek van Vlueten on a time trial. Power also allows you to train with a specificity that other sports just can't match.
What is VeloPro?
VeloPro, is the world's first AI-powered training system for cyclists. VeloPro's adaptable system ensures that every cyclist -- no matter level of experience -- gets a customized training program perfectly designed to prepare them for their cycling events. To create and continually optimize custom training programs for cyclists, VeloPro uses proprietary machine learning algorithms that considers a rider's experience and schedule, as well as the distance, elevation, and the date of their targeted event -- and then applies proven periodized training structures, just as a live coach would. VeloPro helps cyclists make the best use of their power meters by analyzing their power meter data to fine tune their plan and providing workouts in targeted power zones.
How can I enter to win a Verve Cycling InfoCrank Power Meter?
If you are a US resident over the age of 18, you can enter on VeloPro.bike. Entry will open on July 8, 2019 at 5:00 AM PST. To enter, simply sign up for a free VeloPro Trial. You will receive one contest entry and one month of free training. Current VeloPro members with active accounts will automatically receive one contest entry no action required. Suspended members will not receive an entry. Only one entry per person is allowed.
Why can I only enter if I am a resident of the United States? What if I live in another country?
VeloPro is always looking for ways to engage the global community. However, promotional programs are not available outside of the USA due to specific local laws and regulations.
What If I am Already a VeloPro Athlete? Can I enter?
VeloPro Athletes with active paid or trail accounts as of July 8, 2019 will automatically receive one contest entry! You don't need to do anything. VeloPro athletes with suspended or cancelled accounts are not eligible.
How will I know if I have won?
The winner will be notified via the e-mail address you provided for account verification on the entry site, no later than two weeks after the closure of the sweepstakes.
If I am a lucky winner, when can I expect my prize to be delivered?
Delivery times will vary by state, but could take up to 4 weeks after you have been contacted as a winner, selected the power meter that will work for you, and have confirmed your delivery details with us.
What makes a Verve Cycling InfoCrank Power Meter Special?
Verve Cycling's InfoCrank Power Meters have been shown in studies to be the most accurate and durable power meters on the market. In fact, InfoCrank is the power meter used by British Cycling and the UCI.
Where can I buy a Verve Cycling InfoCrank Power Meter?
You can buy InfoCrank Power Meters directly from Verve Cycling at https://shop.vervecycling.com/.
How can I continue to train with VeloPro after my free trial is over?
It's easy! When your free trial expires VeloPro will send you an email with a link where you can renew your membership. VeloPro is $10 a month and offers discounts for quarterly or yearly renewals.
Back