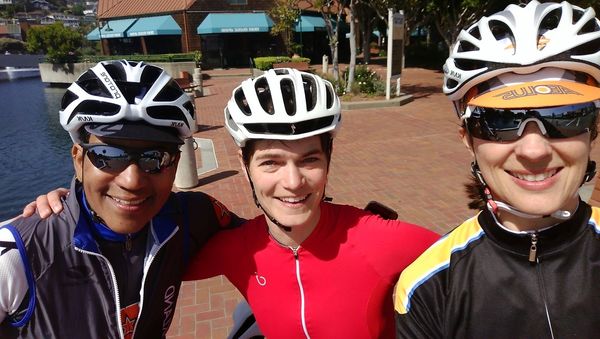 Jon's Beginner Blog #2 - You're Thinking About Trying Cycling?
Well maybe not, but you should!
It was four years after my kidney transplant. I proved to myself that I was at the top of my work game as Director of Branding and Consumer Marketing for Intel-GE Care Innovations. So, I took a risk and decided to work for myself. I joined a marketing consulting firm and set out to light the world on fire.
My very first client was "VeloPro," a local Portland Oregon startup focused on cycling. Portland is cycling city USA. You can't go a block without seeing a cyclist whiz by. I was interested to see what the excitement was about. I knew absolutely nothing about cycling or the cycling market, but I was a quick study and had a huge kit of branding and marketing kick-ass to offer.
As part of my work, I interviewed the three VeloPro founders to get a sense of their culture, brand and mission. I was not surprised by their passion and enthusiasm; I expected that from a startup. What did surprise me was their inclusiveness. There was no sense of snobbishness, no condescension, and no judgment. They made it obvious that cycling was a club with an open membership policy.
I asked each founder how they started cycling. Robert Vizza, the tech genius behind VeloPro, explained that he was spending too much time at work, was exhausted, getting heavy and feeling bummed out. Boy, I could totally relate to that feeling. Though I was the healthiest I'd been in my entire life, I was in the exact same boat.
Robert said, "First, I pedaled around in front of my house. Then I rode around my neighborhood. Next, I noticed I went three miles. A couple of weeks later, I went five miles. Suddenly, I realized I could do this."
I remember thinking, "I bet I could do that too." My normal excuses, "I'm too tall. I'm too fat. I'm too old. I'm too sick. I'm not athletic. I look ridiculous in Lycra." They seemed to diminish. Small successes made starting out less intimidating. This wasn't one of those TV commercial spin classes from hell with beautiful people dripping with sweat. This wasn't a Tour De France Yellow Jersey dude suffering up Mont Ventoux, his face contorted with determination and agony.
I could do this, and you can too.
Next blog: How to find the right bike for you.
Back