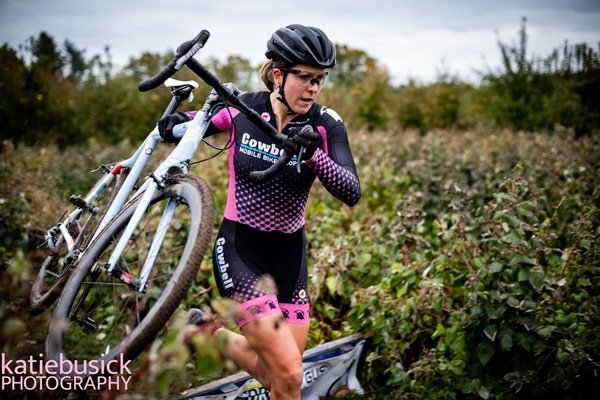 More Cowbell Please!
VeloPro athlete and guest blogger Dr. Alixanna Norris shares her story on how she discovered cyclocross racing and made it a family affair.
There were cowbells ringing. Lots of 'em. And mud, sand, a distinct lack of oxygen—or at least my body made it feel that way—and people cheering, most with bullhorns. It was mayhem. That's all I can remember from my first cyclocross race. It was in college, circa 2005, in the mountains of North Carolina. I was on some kind of low-budget mountain bike, lent to me by a friend. I was 21 and a collegiate road racer, first for Virginia Tech and then at Wake Forest. This foray into the "dark side" of beer handups and zany loops through the woods was more of a dare than anything but, within 10 minutes, I was hooked. Bitten by the cyclocross bug, which—unbeknownst to me at the time—would fuel decades more of racing in one of the most ridiculous sports you can ever try to explain to someone.
Fast forward about 15 years: marriage to my college sweetheart (who got me into cycling in the first place), a one-year-old daughter, and a relocation to New England. Racing didn't seem feasible or practical anymore… at least until we became friends with a group of family-friendly cyclocross racers who had a team out of Brownsville, Vermont—the Flying Penguins.
They encouraged us to come out to a few races and we quickly realized what a fun, supportive environment it was, as well as something that was kid-friendly: lots of laps meant more cheering for your friends, shorter races so you could still have fun even if you haven't had a ton of time on your bike, and we lived within a 2-hour epicenter of some of the nation's more prestigious cyclocross racing. Suddenly and quite unexpectedly, I found myself back on the wagon!
Over the next few years, with the addition of a second kid, we slowly became a "biking family." We found ways to intersperse riding with work and family life—Dad would ride TO the family hike that day, Mom would ride FROM. We would ride the kids to the farmer market on tag-a-longs. We swapped rotations on the weekend dawn-patrol gravel group rides. Our base miles came up and, with that, our fitness. Over a few seasons, we started moving up through the racing categories until my husband and I were both competitive in the Cat 3 fields. We were logging roughly 20 races a season.
At that point, it became clear that, to move further, we needed to get smarter about the time we could put into the bikes. Although a popular choice for my racing friends, I couldn't justify the cost of a coach—especially since none of the coaches I knew of had kids or could really grasp the delicate balancing act that, at any moment, could take priority over the day's workout.
A friend and local bike shop owner, Dick Drummond, had the perfect solution—VeloPro! I signed up and immediately felt that my time and effort was being shaped in a smarter, more efficient way. Consequently, my next season in the Cat 3's was dynamite: multiple local and national race podiums, a podium finish in the Cat 3 Overall VERGE New England cyclocross series, and my Cat 2 upgrade.
It felt great. I was repeatedly impressed with how well the plan prepared me for the challenging two-race weekends over multiple weeks in a row. It really helped me to manage the multiple peaks in a single cyclocross season, and adjusted the plan in real-time, which would have been a nightmare using the pen-and-table routine from my college days. My husband also started using VeloPro at that time and also got his Cat 2 upgrade. I continued using VeloPro for my first full Cat 2 season (2017), while also transitioning to the higher caliber of UCI-level racing and traveling farther to more national races. The kids loved the "bigger lights" of the UCI races, while also getting to cheer for their favorite national pros, along with Mom and Dad, in the same races. My only goal for that season was to finish in the top 15 of a UCI race, which I nearly met and honestly believe that wouldn't even have been feasible without the structured support afforded to me by VeloPro.
I guess the cyclocross bug can bite even the youngest. My daughter, now 9, just started doing the Cub Juniors races this year and her brother, now 6, rocks his pink hand-me-down mountain bike in the kids races. We love seeing the community that is formed by all the racers and families coming together every weekend; the support and motivation for all who pin on a number is inspiring enough to last all year. So, while it doesn't bode well for yard leaf clean-up, you can find us any autumn weekend day (rain or shine) hanging out under a tent somewhere in a field or park, just cheering and ringing cowbells. Lots of 'em.
Back