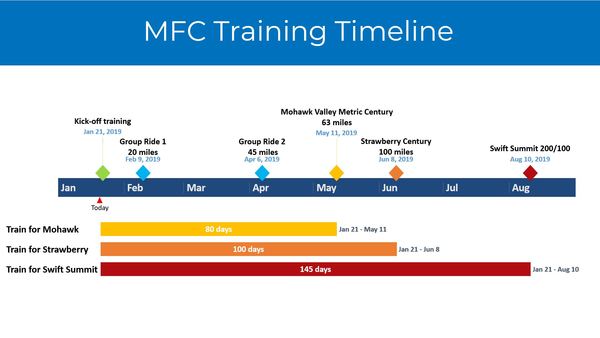 My First Century Training Timeline
Are you ready to train?
It's time to start training so you can reach your goal of riding a century! Be sure to sign up and train with VeloPro. If you've signed up for one of our featured events, you will get a code for three months of free training! Everyone else will get a no-credit-card- required one month free trial.
Once you are a VeloPro member, it is easy to create a training plan for your century. Go to your goals tab. Then enter the name of your event and choose "MFC" as your event type and finish setting up your goal.
If you are training to ride in one of our featured events, that's awesome! However, you can choose any century ride in the world. Just make sure you give yourself enough time to train. If you start training now, you'll be prepared for any century ride from the end of May through the Summer months. If you upload a century ride on the day or your event, we'll send you a gift celebrating your accomplishment!
Try, train, triumph!
Back