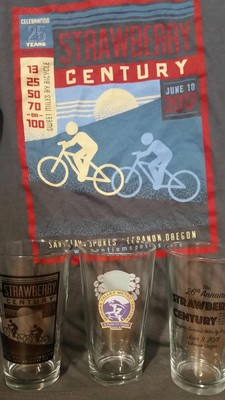 Now I Am Committed!
I just signed up for for the Mohawk Valley Metric Century and Strawberry Century!
I just registered for the Mohawk Valley Metric Century and the Strawberry Century. Now I really feel committed to completing My First Century! From the picture it will be obvious that I am familiar with both events. Pint glasses are sold at both events and I collect them.
My husband and I are members of Eugene Velo, the local cycling club that puts on Mohawk Metric Century. Two years ago I volunteered for the event and my husband rode to train for his first century ride the next weekend at Reach the Beach. It was a good opportunity to interact with the people who participate in the Oregon Supported Living Program and were also volunteering at the event. Last year, I participated as a cyclist. It's a pretty ride with a covered bridge included. Some of the beginning portion I ride already on a regular basis.
I am very excited to be riding with VeloPro and having Strawberry Century as my first 100-mile ride! It seems like a natural progression for me since I have ridden the 50 and 70-mile routes already. Strawberry Century is one of my favorite events to participate in!
Two years ago, I rode the 50-mile ride with my husband. The weather was iffy at times and later found out there was a funnel cloud spotted near Albany. Last year I rode the 70-mile ride, which I really enjoyed. However, I did get caught up in the lightning and hail storm outside of Brownsville. I had hail in my shoes and caught in my helmet as it pelted my body. It was an area of farmland with nowhere to shelter, so I just pedaled on. At the end you are rewarded with barbecue and strawberry shortcake and ice cream!
With the crazy weather we are having currently, I am hopeful it will be nice weather for both events. They are both fun events with beautiful scenery, so if you haven't ridden them before I would encourage you sign up!
Back