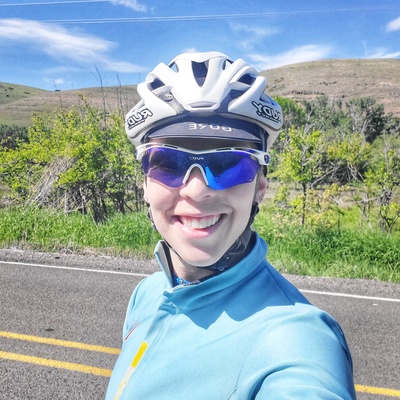 Slowing My Roll - Sari Hargand
Reconnecting with why I ride
This past weekend I had a chance to reconnect with the reasons I ride in a profound way. I am an analyst by nature and by profession. As such, I am extremely motivated by metrics and having a training plan that allowed me to track ride time, power and effort was amazing. Since January, and my training with VeloPro, I have spent more than 100 hours on my bike, logged over 1,600 miles and gained 87,000 feet of elevation. My functional threshold power or FTP has increased from 150 watts to 212 watts. I trained, I raced, and I trained again. I have gotten fitter, faster, and feel ready for my first century ride in the coming week. This weekend however, I slowed it all down and went out to enjoy the scenery and company in eastern Oregon. I still logged those miles, but I wasn't racing to improve my time or power output, I was just out there to connect with my bike.
My first road ride happened several years ago when my mom suggested that her partner take me out for some gentle climbing outside of South Salem. Gordy had been riding with friends in the area for years and was excited to get another new rider out on the road. He agreed to take me out and teach me how to ride a bike. Even after an entire childhood of riding bikes, and years of bike commutes, I had never clipped in nor ridden with drop bars. We spent half an hour in the grass clipping in and out over and over again. He reassured me that everyone had fallen at some point and that I shouldn't be afraid or embarrassed when it happened to me. Once we got out on to the road, I spent 25 miles learning about hand signals and drafting. Gordy was patient and kind and showed me everything I needed to know in order to feel safe and comfortable on a road bike in a group. In the years that followed, I started venturing out on my own more in addition to my regular bike commuting. I rode when I was feeling stressed, I rode when I was happy, I rode when I was sad, and I rode to clear my head. I practiced some of the most difficult conversations of my life on my bike, I dealt with issues of death and mortality, I laughed, and I cried. I discovered myself on those rides. As I started to track my "stats", I realized how much I was growing physically as well as mentally. Last year I finally worked up the nerve to compete in some cyclocross races and this year I decided to really focus on road racing. I have since graduated to proper road shoes, Look pedals (no more SPDs on the road), and have absolutely had several embarrassingly slow falls while clipped in.
On Saturday I rode 80 miles up Cabbage Hill, the Pendleton Valley and through the Blue Mountains. I spent the first 25 miles riding with Gordy and a couple family friends. Gordy has been trying to get me to come on this ride for the past 10 years and I have either not felt ready or couldn't find the time. After riding the Mohawk Metric Century a couple weekends ago, I was feeling fresh and confident that I could cover the distance. On this ride I was feeling great and found myself chatting easily while we climbed Cabbage Hill, for an elevation gain of approximately 2,000 feet with dangerous hairpin turns and 6% grade in some places. After a few gentle descents, and one sketchy encounter with a cow and her calf we continued to the small logging town of Meacham. Gordy was feeling like a 50-mile ride while I still had plenty of gas in the tank. At mile 25, Gordy stopped to get some lunch in Meacham while I filled my water bottle up and headed out to finish my ride. The following 55 miles were solo and divine. The back roads led me through wheat fields, cattle range and over rolling hills with views of the Pendleton Valley. I turned around at Spring Creek and prepared for the return course with the final 10-mile descent of Cabbage Hill being the icing on the cake for me.
Sunday morning, we decided to head out for another ride, this time opting for a shorter 50-mile route tracing Thorn Hollow Road along the Umatilla River. I spent the first 5 miles with the group before taking off to enjoy the sunshine at my own pace. I could not have had a better day! I spent a solid hour without seeing another human being. It was eerily beautiful in its isolation and this was where all those feel-good endorphins really rushed. I was able to connect with my bike in a way that I haven't in quite some time. There is something about finding yourself, in the middle of nowhere, dependent upon your own legs and this little carbon framed bike to get you home again that makes you feel small but powerful at the same time. I could not have asked for a better weekend. Those two days of riding left me satisfied and invigorated. After 130 miles, and a combined 9,000 feet of elevation gained I felt recharged!
To the man who took me out on my first road ride ever and showed me the ropes, thank you. Your guidance, and encouragement has allowed me to grow into the rider I am today. Finally, mom, thanks for loaning me that first road bike!
Back