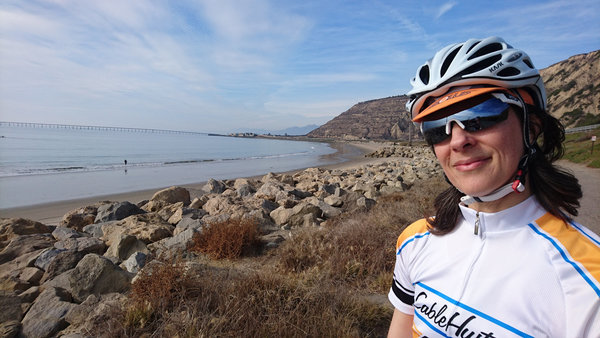 The Journey from a Banana Bike to a Cycling Life
How one woman found love and with it a great life on the bike.
What does progress mean in cycling?
There are a million different people who have a million different goals on the bike around the world and many are competitive – amateur or professional racing - while others are more casual – centuries, gran fondos, cycle touring, losing weight, staying fit…so progress can mean a million different things.
News alert – I am a casual rider. My cycling progress looks like this:
| | |
| --- | --- |
| 1978 – 1985 | Schwinn with banana seat and handlebar streamers |
| 1986 – 2004 | Long gap with no riding at all but a whole career of dancing |
| 2004 – 2005 | One-speed beach cruiser borrowed from my uncle when I moved to Portland, Oregon |
| 2005 – 2011 | Met cycling husband (VeloPro co-founder Adnan Kadir) who insisted that I buy a new commuter hybrid with 24 gears, which was the most I've ever paid for a bike - $400! My first big ride was up Mount Tabor in Portland which was all of 6 miles from our house with 800 feet of climbing. I cried ¼ of the way up because I didn't know how to use my gears and my heart was going to explode out of my chest, despite many years of athletic dancing. |
| 2010 | Graduated to a Trek 2.3 road bike with flat pedals for 2 years, gradually increasing the mileage and my confidence with every ride |
| 2012 | Graduated to clipless pedals and went to Hawaii to ride. Did a 50-mile ride with 4000 feet of climbing that took me to the next level |
| 2013 – 2017 | Started wearing real cycling kit and using a power meter (more for my husband's interest than mine) and racked up 40–80 miles a week |
| 2017 | First time that I had coaching to prepare for a trip to Europe with 25 days of riding with an average of 30 miles a day and 2500 feet of climbing. Conquered it and was in the best shape of my life since I stopped dancing professionally back in 2004 |
My ambitions are not grand on the bike, but I am still amazed at how far I've come and have immense pleasure when I have conquered a big ride (or several in a row). I know that rest is important (no problem!) but if I take too much time off the bike, I must start easy and gradually work my way up to fitness again.
Identifying your progress is important. Celebrate the small wins. They add up and make a difference. One of the things that I lacked as a developing dancer was to give myself credit for small wins, tiny accomplishments. I only had the big picture in mind – the beautiful dancer that I wanted to be – but couldn't celebrate the journey to get there, which was one of my biggest and most devastating mistakes.
On the bike, I don't have the same big aspirations that I did as a dancer, but I have learned to acknowledge the little ways in which I've grown and developed. I am much more comfortable in my clips and don't have to clip out 500 meters before a stop sign. I have a smooth pedal stroke. I know how to shift gears smoothly so as not to interrupt the cadence when the terrain changes. I dress more smartly. I know how to warm up intelligently. I know how to pace myself to complete a ride without being totally wasted. I know how to stay relaxed on the bike. I ride smooth and steady.
Of course, I'm not perfect and I make small mistakes regularly, but I don't beat myself up over them like I did when I was a dancer.
Honor your progress. Recognize the smaller accomplishments. Celebrate the tiny wins that add up to a bigger win. This mental hygiene practice will make you a healthier and happier human being.
Back