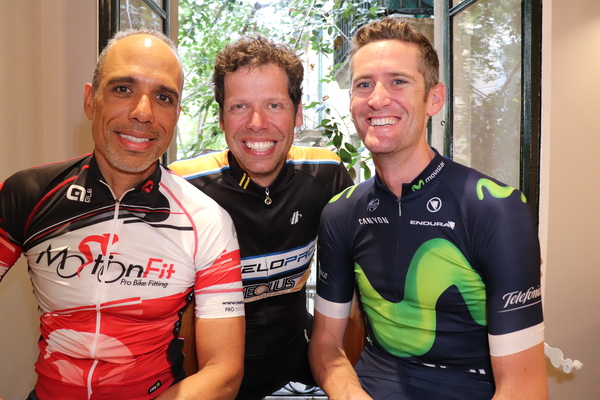 Welcome to the NEW VeloPro Blog
Join us for great cycling training tips and information.
We're starting a new era at VeloPro. When VeloPro was founded in 2014, we did it for two big reasons:
Training can be complicated! Not everyone has the time to read the latest scientific journals on athletic performance and training. Interpreting and integrating this information into real-world training scenarios is difficult and reserved for Olympic and pro coaches and their elite athletes.
We believed that we could simplify this process and give every rider the benefit of world-class personalized training.
We knew that not everyone has access to a coach. Coach created, individualized training plans are an expensive luxury for most cyclists. Most athletes end up becoming their own coach and, in some cases, their own worst coach. They develop bad training habits and intractable performance plateaus.
Coach Kadir had a vision of using the latest training science along with his decade of experience as a certified USA Cycling Level I pro coach to give everyone the tools to achieve their cycling goals.
After a rigorous year of development, VeloPro came to market in 2015. We were the first training solution to build custom, individualized training plans that dynamically adapt to each rider's ongoing performance. Now, after three years of being live and in operation, we're ready for the big time. VeloPro is proven! Hundreds of athletes have successfully used VeloPro to train for cycling events like races, time trials, gran fondos, and centuries. VeloPro athletes use our road, mountain, and cyclocross training plans to build power, speed and endurance.
What's best is that we've succeeded in simplifying training. We've incorporated training science tempered by world-class coaching experience. We've eliminated the need to endlessly fiddle with training variables that may not help performance. Bluntly put: VeloPro helps you kick ass.
We want every cyclist to benefit from VeloPro. We've improved our service with new features and lowered our price to be more affordable and accessible. We've also creating a ton of great content to motivate you to train and improve. Here's what you can expect in the following weeks and months.
Articles explaining "How VeloPro Works" so you know the method and science behind your plan.
Coach Adnan Kadir's Pro Blog where he tackles advance training concepts and cycling techniques to help you break away from the peloton
Jon Seaman's Beginning Cyclist Blog that shows you how one complete novice used VeloPro after a lifetime of chronic illness to become fit and healthy.
Inspirational Guest Blogs from riders who have used VeloPro to reach their goals
Interviews with world-class coaches, pro athletes, bike technology execs, and other key cycling figures
An Ask Adnan column, where the coach will answer your most challenging training and VeloPro questions
A daily dose of pithy Cycling Training Tips.
We hope that you'll be back regularly to check out the latest good stuff. We hope you'll sign up for the free month trial of VeloPro to see what everyone is talking about. Join us on Facebook, Twitter and Instagram. Also, if you like what you're reading, please share it out to the world.
Sincere thanks,
The VeloPro Team
Back