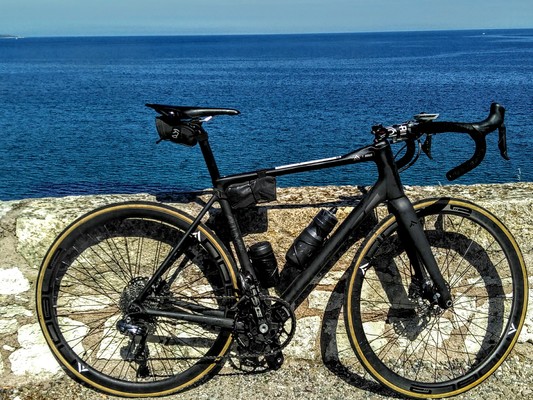 What Kind of Bike is Best for the Cent Cols Challenge?
Phil Deeker Shares the Secrets of His Bike Setup
VeloPro: Phil, this is the ten-year anniversary of the Cent Cols Challenge. You've ridden in every single one. We imagine that you've learned a thing or two about what kind of bike works best. What bike do you ride?
Phil: Whilst I love the spark and simplicity of a steel frame, I have ridden a carbon Parlee on every single CCC. Different models: Z4, Z5 to the recent Altum. The latter with Di2 and disc brakes. I like the classic, understated lines of the frame. It handles so well, especially when descending, and deals with road-buzz almost as well as titanium or steel. It's so important to feel a perfect 'union' between bike and body when you ask so much from both!
I start my winter riding program on my steel bike usually: a little heavier than the Parlee which is good for training. Once the weather has improved and I'm into my last two pre-event months, I switch to my Parlee. It's important to make sure your set-up and fit is perfect and the only way to test this is by riding LONG distances on it. It's an error to think that you should just keep your 'posh' bike hanging on the wall until the event in case you damage it!
How is your bike set up? What kind of gearing do you use?
I rode my original 300 Cols Challenge for my 50th birthday on a Titanium frame with a semi-compact (52/36) set-up with what was then thought to be the ultimate climbing sprocket with a 27 on the back!! 12 years later I'm riding a full compact (50/34) with either a 32 or 34 at the back. A long apprenticeship that has taken me from the slow grind to a kind of supple spin, although my cadence still looks a little 'old school', I know! What I love above all on the bike is when the climb has a steady gradient that allows me to get into a smooth, swinging movement on the bike, with the whole body working together, not just the legs, and this in turn easing me mentally into a trance-like state. I find an effort level I can maintain and control. I may not be fast, but I can go on for hours like this. One thing is sure: no one should shy away from a 32 or 34, thinking it's a sign of weakness. When there are between 4-5,000m of UP to handle every day, you never have enough gears to look for! Your knees will thank you so much for a start.
I've used disc brakes for a couple of years now and despite the clear advantage they have when braking in rain, and the consistency of the braking sensation itself, I have come back to rim brakes, for their simplicity (on-event maintenance as well as aesthetic) and for the more direct and 'physical' response they give you. I used Di2 as well for my 1000 Cols, which helped deal with the intense fatigue I went through on that ride, but again, I prefer the physical feel of a good mechanical shifter. The simplicity of the bicycle is part of my attraction to it. Whilst I am as keen as anyone to find 'the best' regarding any part of the bike, I always check that against my own 'Keep It Simple 'life-ethic.
What makes for a great climbing bike?
Weight is of course what everyone thinks of first. But descending on an ultra-light bike requires even more technique: the handling of a bike when descending at high speed is, for me, more important to consider than how it climbs. It must be robust enough to take some harsh knocks on rough tarmac and yet feel light enough so that it feels part of you, sitting happily underneath you, not asking to be dragged along just behind you!
What bike makes for a climbing disaster?
There are three critical mistakes:
A bike that is badly maintained. We have had some bikes on event that have clearly not see a GOOD mechanic in a long time. Why would you spend so much money on a CCC and not have spent a bit on several check-ups pre-event too? (i.e. not just a last minute: "can you just give the bike a look-over? I'm doing a bike event.")
A bike that has been set up for speed alone. The bikes that look the fastest often have carbon rim wheels and weigh less than the wind are so often the ones that don't finish the event. I've seen carbon rims delaminate several times; spokes snap on 'ultra-fast' wheels; frames even crack…
A bike that is not comfortable. However aero and light the bike might be, if you can't spend 12 hours on it without back or neck problems, then it's not what you need!
What kind of bikes do your clients bring?
Most are carbon of course, but over the years I have seen many titanium and steel bikes too. Titanium is a great choice for long days in the saddle; robust and so, so comfortable. The standard/level of bikes has become so high now: riders are spending more & more for the best kit around. But some get caught out by their search for the ultra-performance by overlooking the reliability factor: a big mechanical problem might possibly end your event if our mechanic cannot help. The more specific/elite your bike, the harder it might be for us to help with a spare part. Look at disc-brake wheels now, all with different hub sizes etc….
What kind of gear do you pack, knowing you must balance weight with being in the remote mountains?
I always carry two inner tubes, strong tyre stick-on patches, a multi-tool, a tiny pocket-knife with a fine blade for removing grit from a tyre, a valve extender, an emergency gel (I never use gels unless I can feel The Wall coming!), a small frame-pump rather than CO2 – keeping it simple, and a strong pair of reading glasses for an ageing pair of eyes!
I have experimented with tri-type bar packs, saddle packs, etc, but have never found a better place for a camera or fuel-bars than in the back pocket. I use either a 'roll'-type of saddle pouch for the inner tubes etc, and I also use a 'cargo-bidon' for stashing a packable rain jacket, or food: I usually manage fine with one 750ml bidon per 70 kms, unless temperatures soar. I am often told I don't drink enough, but I check my urine and never force myself to drink unless the urine becomes darker. Hydration is even more personal than feeding, I think. It has a lot to do with fitness too, of course!
Beyond common punctures, what kind of maintenance issues do CCC riders encounter?
Ones that relate to the stress of riding 200 kms a day for ten days, most of them involving a lot of torque (going up) and vibration (going down). So, bottom brackets need to be newish; wheels need to be built for endurance, not just for speed; and cleats/pedals need also to be in perfect condition. These are all areas of the bike that come under the most stress over a ten-day ride.
Be sure to visit the Cent Cols Challenge website to learn how you can sign up. Big thanks to Phil Deeker!
Back