10 Quick Bike Safety Tips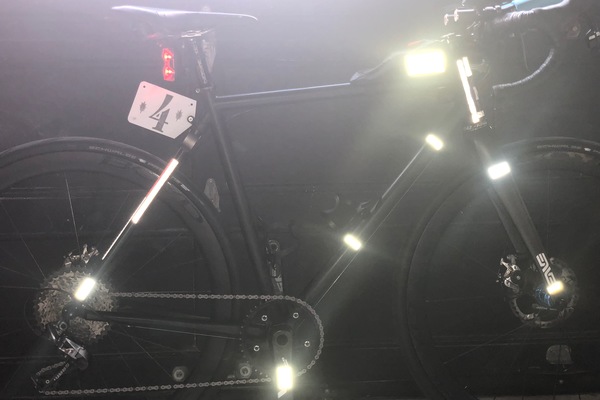 10 Quick Bike Safety Tips
We've all seen the increasing incidents of cyclists being injured and killed by motorists. This is a global phenomenon as distracted driving and poor cycling infrastructure persist. In fact, a recent study out of Australia shows that drivers don't consider cyclists fully human! It is vital that you protect yourself while on your training rides. If this is something that's has you worried, here are a few quick tips.
Lights always. Day and night. Flashing red rear light. Blinking clear light on front (if your local laws permit).
High-viz clothing may feel dorky but can improve your chances of being seen. Socks that glow with the motion of your pedaling is a smart choice.
Reflectors may be dorky and heavy, but recent advances in reflective tape are awesome. Apply them to crank, frame and rims for eye grabbing results. ***
Be very careful when riding at dusk and dawn. Blinding sunlight in driver's eyes is a recipe for disaster.
Be present. Don't daydream. This is especially important if you are riding a familiar route. Don't let your guard down, ever. The routes you ride the most are often where accidents happen.
Take extra caution at intersections, tops of hills, and road bends. Drivers at speed often don't expect to see cyclists pop up in these places and may not have time to slow down or stop for you.
Take extra caution riding after a storm. This is often when bike lanes and road edges are filled with standing water and nasty debris. Drivers don't understand this and are greatly angered when a cyclist takes the lane, especially when a bike lane exists. Yes, we have the law on our side, but would your rather be right or dead?
Your local path can be just as dangerous as the road. Runners, stroller moms, kids and dog walkers make for unpredictable conditions. Bike bells work. Use them. It is not rude to be safe. Also, watch your speed on these multi-use paths. This is no place to do intervals.
Invest in bike cameras. Front and Rear. Your humble author rides with Cycliq The cameras won't keep you safe but can capture all the crazy. It is hard to know exactly what happened when everything goes wrong. Cameras can help you identify the dangerous drivers and make police reports.
Ride more gravel. Gravel riding has exploded the last few years as road cycling as has become more dangerous. Also, there's no shame in riding a trainer in the safety of your pain cave. VeloPro workouts can easily be converted into indoor rides for Zwift or your .ERG compatible trainer. If in doubt, be safe.There's nothing better than car free riding.
***Thanks to Dave Anolik for this photo of his blinged out bike!***
Home