Cycling Training Terminology
Cycling Training Terminology
Making the transition from just riding around to riding with purpose can be overwhelming. If you are just starting to train, you will be flooded with unique jargon and acronyms. Check out these helpful definitions.
Structured Training

--A systematic way of organizing training to best use your time, in preparation for peak performance for an athletic event. The training comes in four phases and consists of specialized workouts tailored to your event type. The length and intensity of each phase depends on your starting fitness and the number of weeks until your event:

Base Phase--Builds basic fitness focusing on endurance.

Build Phase--Builds intensity of workouts to increase power, speed and endurance.

Rest Phase--Consolidates training gains by giving you recovery time for muscles to recover.

Event Phase--Taper down from the intense build phase workouts until your are fresh, rested and ready for your event.
Goal Specificity--Training planning that optimizes a rider's fitness and performance for their target event. For example, training for cyclocross requires different structure than training for randonnée events.
Periodization--The systematic planning of training around a schedule designed to bring the athlete to peak performance for their goal. The training schedule is built around periods of steadily increasing effort, followed by periods of rest.
Workouts--Specific rides designed to train your body to produce an athletic effort for your specific event. Each workout has a Training Load (TL) goal.
Training Load--A numerical value that quantifies the total effort for a workout. The higher the number the more intense the workout. For example, an easy workout could have a training load goal of 40 while an endurance workout could have a training load goal of 100. The higher the TL number for the workout, the more time you will need to recover from that workout. All your weekly workouts combined will give you a training load goal for the week. For example 350.
Training Zones--Differing levels of intensity within a workout designed to elicit a specific performance from your body. See the chart below. The amount of effort required to be in a specific zone varies greatly by athlete.
Workout Intervals--Segments of time within a workout dedicated to operating in a specific training zone.
Interval Training--Common vernacular for a workout designed around short intense bursts of effort followed by rests, repeated in a sequence. There are many types of interval training workouts with rising intensity including; Lactate Threshold, V02Max, Anaerobic, and Neuromuscular Intervals. A common misperception is that intervals are simply all out efforts. There is a range of interval training types designed to increase your performance for specific event situations.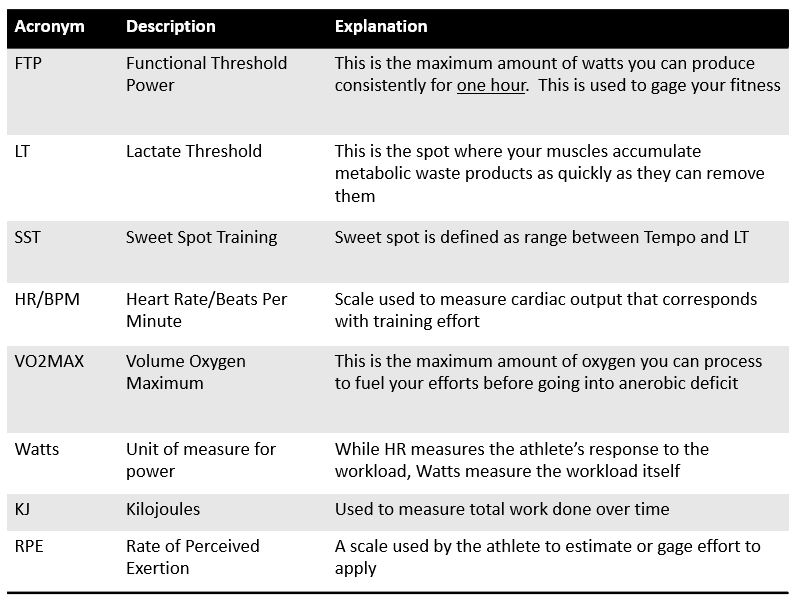 Home