Solutions to the Top 10 Motivation Killers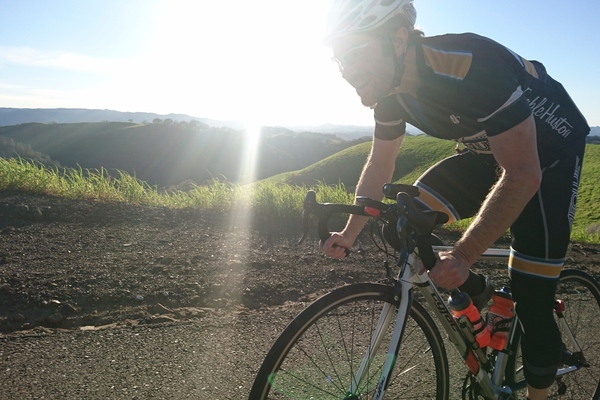 Solutions to the Top 10 Motivation Killers
From time-to-time, everyone has problems getting motivated to train. This is normal. The secret is to figure out the root cause. Once you understand why, then you can move on to what you can do about it. Here are the common top 10 reasons for lack of motivation and what you can do to get back on track:
You are physically tired.

Look at your training load. Are you training like crazy? Are your muscles aching and sore? You may need additional recovery time after a hard ride. If you've been training for several days straight, your body may need a break. Part of training and increasing your fitness is working hard and then resting. Rest gives your body a chance to get build back up stronger than before. So, learn how your body responds to training. If you are nursing an injury, or feel unusually tired, there's nothing wrong with taking a day off. If you feel sick, don't make it worse. There's no trophy for punishing yourself. Take a day off.

You feel stressed out.

It is hard not to be stressed out these days. Time, family, work, finances, politics, self-expectations…the list of reasons to be stressed out is endless. You need an outlet. Worrying and stressing out is what people do while they're waiting for something to happen. So, in this case take the bull by the horns and force yourself to workout. Even if it seems impossible, take a ride. There's nothing like a ride to burn off stress. You will feel better and more able to cope with life challenges.

You feel depressed.

Depression is a very serious problem. Depending on the severity of your condition you may need medication and therapy. Additionally, it is very important to understand that exercise and training always helps. This is one of those life secrets everyone should know. In several studies, exercise has been shown to be as effective as medication for combatting depression. That's a good way to think about training, if you struggle with depression or anxiety, training is a dose of much needed medicine. There's no better way to combat depression and release feel-good endorphins than exercise.

You are short of time.

Life conspires to rob us of time. Family responsibilities, job requirements, appointments, travel, traffic, unexpected complications, dwindling daylight, and waiting in lines are part of modern life. There will be days when you run out of time for training and miss a workout. This happens. However, it is important that you avoid stringing together several days of misses. If you break your workout habit or commitment, it is very hard to get going again. What you can do to avoid this issue is to schedule your workouts for first thing in the morning before your day has a chance to go off the rails. Alternately, you can invest a little money into a trainer, so you can ride at home anytime of the day or night. Also, don't be afraid to shorten your workout. For example, you can always reduce a two-hour planned workout to one hour and ride at a higher tempo to keep your training load up.

The weather is terrible (too hot, cold, windy, rainy, snowy).

When the weather is terrible, ride indoors. Invest in an ERG enabled trainer and an application like Zwift or Rouvy. If you are using the weather as an excuse not to ride, look at the rest of this list and find your real root reason. We've found that the weather is additional friction. If your motivation is waning for other reasons, the weather is a convenient scapegoat. Also, if you hate riding indoors, gear up for the seasons. There is a huge industry out there designed to make your ride more comfortable regardless of weather conditions.

The type of workout scheduled for the day fills you with dread.

Let's get real. Some workouts are hard! An FTP test or interval workout can make for a super-tough day. Many people prefer to avoid these rides. The problem is that your progression as an athlete can stall if you never stress your system to its limit. You must make the mental commitment to try hard knowing that you will ultimately be a much better rider and closer to reaching your goals. On the opposite side, many people dread the "easy" ride. It seems like a waste of time. We assure you that it is not. Easy rides are designed to give your body "active rest." Easy rides help your ligaments, tendons and joints stretch and continually adapt to the bike as you recover.

Training is boring – You are doing the same old thing.

When training is boring, it is time to shake up the old routine. A bike is an endless experience machine! Here's some easy things you can do. Change your route. The roads and terrain are limitless! Ride with a friend or group. Ride gravel. Try a new type of goal; cyclocross, a criterium race, a time trial, a Gran Fondo etc. Hit the gym and try cross-training. Sign up for a triathlon. If you are bored, you have yourself in a mental box. Open the door and let yourself out! Only you can unstick yourself from same old, same old.

Training is lonely.

Motivation is a funny thing. Some people are motivated by having time alone. Others are motivated by interacting with others. If you find you are lonely, find a riding buddy, join a club, or do a group ride. The cycling community is vast! Put out a few feelers. You'll be amazed by the number of people who ride. Your local bike shop can often clue you into cool rides and clubs in your area. If you are one of our loners, you should still do an occasional group ride. Group rides require a much different skills set than riding alone. You can only learn drafting, bike handling, and holding your line through experience.

Training feels selfish.

Keeping yourself fit and healthy is not selfish! Full stop. Being fit and healthy gives you the strength and endurance needed to live a full life and be a source of strength for others. Healthy and fit people have more energy reserves to handle life's endless challenges. Ever see those people who seem to have boundless energy and drive? We guarantee you that they work out. If you think that your job is to work and then die, or be a parent and then die, you are not living a full life. In fact, it is selfish NOT to work out.

You don't feel like you are getting results.

Everyone wants instant growth. We are an impatient species. It is important to manage your expectations and be realistic. You are not a training movie montage where the hero becomes a champion in a two-minute music video. Sometimes it is difficult to see day-to-day improvements. That's why all good training plans are a minimum of 8-weeks. It takes your body that much time to adapt to the new load you are putting on it. People are often shocked at the end of an 8-week program when they see how much they've progressed. If you've been self-training for a long time and are a very experienced rider, gains can be harder to find. It may be time to employ a professional coach to unlock your full potential.
Home