Top 5 Reasons to Ride Indoors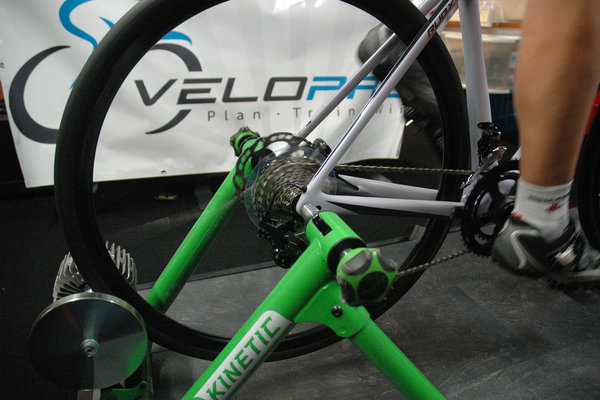 Top 5 Reasons to Ride Indoors
Most of us love to ride outdoors. There's nothing better than speeding through the countryside feeling the wind on your face, tackling a challenging hill and carving through the descent that follows. A smart trainer and a box fan just can't compete with nature. However, there are times when riding and training indoors is the best solution. Riding indoors gives you the ultimate control of your environment and safety. Here are the top reasons to ride indoors:
Cope with weather conditions: Rain, snow, ice, excessive heat, air quality warnings, and darkness are all valid reasons to ride indoors.

Enjoy gamification: Services like Zwift and Rouvy also offer unique experiences that make it fun to ride indoors. Even if it is virtual, it can be thrilling to ride a stage of the Tour De France or time trial with cyclists from around the world. With a variety of competitions, events and rides, virtual services can be addicting and a cure for training boredom.

Reduce interruptions: Pedestrians, stop signs, red lights, school zones, heavy traffic, road construction, and other unpredictable events can sabotage a good training ride. If you're in an urban area and don't have time to find a safe, less populated route, riding indoors can save your life.

Increase control: Consider riding inside when you need tight control of the timing and accuracy of your power output for certain types of training rides.
FTP tests (functional threshold power) require a consistent maximum effort for 20 minutes. Riding indoors helps ensure accuracy and minimizes interruptions.

SST training (sweet spot training) requires you to keep your power output in a tight window of 10 watts or less variability. This is much easier on an indoor trainer where terrain is not an issue.

Interval training requires maximum effort followed by short periods of rest. You can't afford to worry about road hazards. Finding a place to safely ride intervals can be difficult and not many people have access to a Velodrome or bike track. Also, intervals require careful timing and monitoring of your effort and power output. This can be easier to manage riding indoors.
Heat acclimation: If you're going to a big ride somewhere hot and humid, riding indoors can help you prepare. Just crank up the thermostat! Many Olympic athletes did this when preparing for the Rio games. Triathletes regularly do this for the Ironman in Kona.
Bonus reason: No helmet required!
No matter your reason for training indoors, it is super easy to convert any VeloPro workout into an indoor Zwift or smart trainer session. With just a click, you can download your workout in .ZWI or .ERG file format. So, when you can't get out there, you can still get inside and ride!
Home