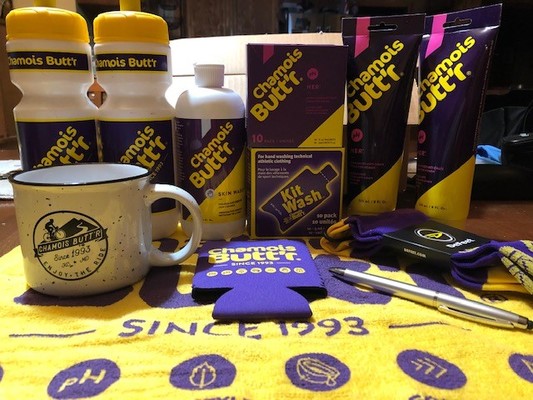 Big Thanks to Chamois Butt'r
Personal Care Kits!
Riding a century takes excellent fitness, it also takes being comfortable in the saddle. Chamois Butt'r offers riders the best anti-chafe products on the planet. We know, because we at VeloPro, use it for every ride. It is essential for day-to-day training and riding in endurance events.
We're delighted that Chamois Butt'r is an My First Century sponsor. They really came through with a ton of goodies for our featured athletes. Special bonus: mugs celebrating their 25th anniversary! Thank you Chamois Butt'r!!!
Here's MFC athlete Adam Fast unboxing his Chamois Butt'r booty.
Thanks to our My First Century featured athletes Dianna Fisher, Bethany Thomas, and Adam Fast for the pictures and video.
Back